One of the very few comics I could afford to pick up at the Comica Comiket the other week was a little book called A Music Paper, written and drawing by Alastair Maceachern ('AM').
It's a short, sweet collection of various strips that AM did for music 'zines over the last few years. The main character, a young chap with straggly hair, dark jumper and cords (called
'Alternative Sam'
, I think), decides to start up his own fanzine in order to champion the bands he likes. That basic premise is the bedrock for each strip, which focus on different aspects of the love of music. The humour is gentle and sweet, yet very sharp in its satire.
AM's drawing style, an evocative yet simplistic form which recalls the comforting nostalgia of children's TV shows such as
Trumpton
or
Camberwick Green
, perfectly suits the unpretentious tone. The strips explore the enjoyment and excitement of music, and the basic creative act of writing (even in an amateur sense). Milestones like going to your first gig, printing your first magazine and receiving your first batch of PR promos are all present here.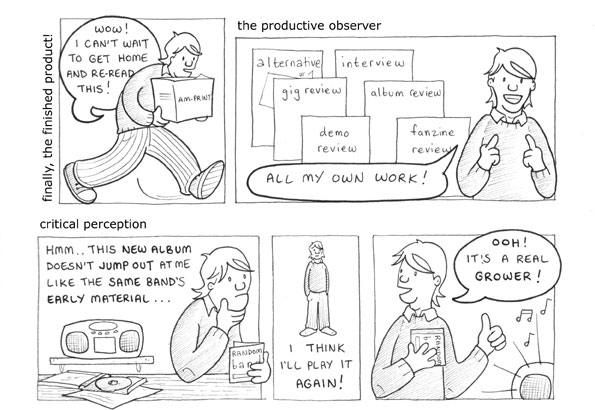 Equally AM mines depth in this context by revealing the contradictions and complexities of such alternative scenes, as the protagonist finds himself bemoaning the mainstream's closed-minded music tastes by being dismissive himself. There is also a long sequence of strips which interrogate the place of the critic in popular entertainment - how important is technical knowledge? are they necessary at all? isn't it just subjective egotism?
It's a charming piece of work. I'd recommend checking out some of the strips, which are up over at AM's
site
.
-
amdrawing.co.uk
- Alastair Maceachern's
Myspace